Wrongful Death Lawyer Houston
Wrongful Death Attorneys In Texas
Accidental Death Attorney In TX
Wrongful death is death that occurs as a result of an avoidable accident caused by the negligent actions of another person or party.  Anyone who has lost a loved one in these circumstances may have the right to compensation. A wrongful death attorney can file a wrongful death claim against the at-fault party so that their client can get compensation.
What Constitutes Wrongful Death?
Wrongful Death Lawsuit Lawyer
Wrongful death often happens because of the reckless actions or inactions of an individual or an entity such as a company. Some situations that may lead to wrongful death include motor vehicle accidents, medical malpractice, and even defective products.
Your lawyer will work to gather enough evidence to prove that the responsible party acted in a negligent manner, and that the death could have been prevented if the at-fault party acted reasonably.
The close family of the deceased person can file a wrongful death suit on behalf of their loved one.  These include the children, parents, or surviving spouse of the deceased person. The representative of the estate of the deceased can file the claim if the family fails to file within three months after the date of the death.
Common Causes Of Wrongful Death In Texas
How To Find A Wrongful Death Attorney
Below are some of the common causes of wrongful death in Texas:
18-wheeler collisions
Motorcycle accidents
Maritime or offshore accidents
Medical malpractice
Workplace accidents
Car accidents
Defective products
The most important thing to do is to find the party responsible for the accident that led to the death.
How Can You Prove Negligence?
TX Wrongful Death Law Firms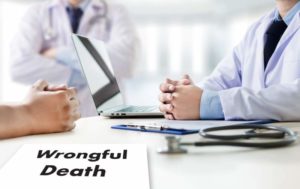 Situations that result in a wrongful death vary but there are elements that must be established for your wrongful death claim to be successful. These elements include:
Duty of Care: You must present evidence that the at-fault party failed to comply with safety regulations at the time of the accident. All industries and professions have established safety standards that should be followed. For example, drivers should ensure that they do not speed or make dangerous maneuvers that place other road users at risk.
Breach of duty of care: You have to prove that the at-fault party breached their duty of care or safety standards. For example, when a developer fails to ensure that property conditions are up to code, they have breached their duty of care.
Causation:  Your lawyer also has to prove that the breach of duty of care directly caused the accident.  For example, if a doctor gives a wrong diagnosis that could be fatal but the patient dies from an infection, then the death was not caused by the wrong diagnosis. That means that you cannot sue the doctor for that death.
What Damages Can Your Recover From A Wrongful Death Case?
Accidental Death Law In Texas
The close family of the deceased can file a wrongful death claim to get compensation for the following:
Funeral and burial expenses
Mental and emotional anguish
Medical expenses the deceased accrued before they died
Lost wages
Lost benefits such as pension, retirement, health insurance coverage, and more
The courts will determine how much should be paid to cover these damages using complex calculations that your lawyer can help you understand.
Find Wrongful Death Lawyers Near Me