Texas Power Of Attorney
Power Of Attorney Texas Law
When planning your estate you should consider establishing a durable power of attorney to make sure that your wishes are carried out when you are inaccessible for some reason. People often give their children power of attorney (POA) so that the children can make certain decisions if the parents become incapacitated. While a POA is generally a useful and important tool, complications may arise depending on the decisions that need to be made. Talk to an estate planning attorney in Texas if you want to know in detail what a POA means and the usefulness of a POA.
Types Of Power Of Attorney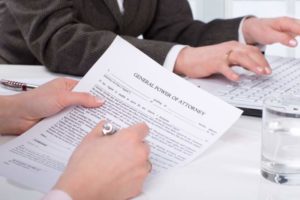 The first type is general power of attorney, which gives the agent the authority to act in a broad range of matters. This type of power of attorney remains active as long as the principal is not incapacitated or does not become mentally or physically disabled. Then there is the limited or special power of attorney that gives the agent authority to handle a specific matter for a limited period of time. Another type of POA is medical power of attorney which gives the agent authority to make medical treatment decisions in the event that the principal becomes mentally or physically unable to make decisions. Durable power of attorney on the other hand is a general power of attorney that grants the agent authority to act in a broad range of matters even when the principal becomes mentally or physically disabled or incapacitated.
When To Establish Power Of Attorney
The following are situations where you may need to establish power of attorney:
You are unavailable to sign a deed of other document because you are travelling

When you know you will be inaccessible when a financial or legal action will need to be taken

You are facing an urgent medical situation and you need someone to take charge of your affairs when you are away getting treatment or recovering

You want someone to be able to make critical decisions when you are incapacitated 
Service members stationed overseas that are going through a divorce sometimes give power of attorney to people they trust to represent their interests. 
Can A POA Delegate Authority?
You, the agent, can only grant a specific ability to a third party if the POA document gives you the authority to delegate that specific ability. This is especially helpful in a situation where a third party demands authority to act on behalf of your family member when you have power of attorney. You may encounter such situations as an agent when you are trying to sell an asset belonging to the principal, but a third party refuses to buy it because they think you do not have the necessary authority. What you should know is that a POA gives authority to the agent to rely on their personal judgment not the judgment of a stranger. So you may be able to sell a house or a car belonging to the principal without having to delegate that authority to a third party.
You may also be interested in…