Texas Business Torts
Business Torts
Torts or tort law are laws that allow parties to sue for damages when they suffer an injury caused by another party's negligent or harmful actions. The injury can be psychological, physical, or financial or in any other form that can be described as a loss. Personal injury and malpractice claims are also included within tort law. For example, you can sue a drunk driver that hits your car and get compensation. Business torts are economic in nature which means they only concern businesses that have experienced financial harm.
What Are Business Torts?
Business torts are wrongful acts committed against a business that result in or are likely to result in losses. The injuries suffered in these cases are "injuries" to business interests, not "injury" to a person. These "injuries" often involve financial losses but they can also be about loss of business clients, opportunities, reputation, or professional relationships. Business torts are not criminal offenses but are considered civil wrongs. They focus more on whether a defendant bears any liability for damages suffered by the plaintiff. 
Liability In Business Tort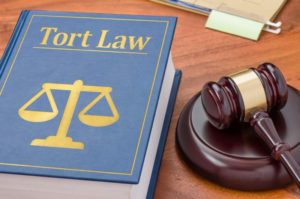 There are elements that plaintiff's need to establish to prove that another party's wrongful act may have caused them to suffer losses. The first element is that the defendant must have owed a "duty of care" (legal duty) to the plaintiff. Another element is that the defendant must have failed to meet the duty of care (breach of duty). The final element is that the breach of duty must have led to the plaintiff suffering actual damages. In business tort, the wrongful action may be a negligent, reckless, or intentional act. 
You will need a business lawyer to help you with a business tort case because these cases are complicated by the fact that you will be presupposing future loses. You may receive monetary damages from the liable party if your business tort case succeeds. The amount you receive will be determined by the evidence your lawyer presents. Your lawyer will have to provide figures for losses you experienced.
Examples Of Business Torts
The different forms business torts can take include:
Theft of trade secrets:

Claims involving a person using confidential business information without authorization. This information must be crucial to the complaining company's competitive success and can include things such as processes, financial data, business plans and so on.

Breach of fiduciary duty:

Involves a party that has an obligation to work in the best interests of a business fails to do so causing the business to suffer losses. Fiduciaries can include corporate board members, company shareholders and more. 

Tortious interference:

This involves a third party interfering with another business's prospective business relationships. These relationships can be economic or contractual.

Misrepresentation or fraud:

Claims concerning a defendant allegedly intentionally deceiving the plaintiff when entering into a contract or business relationship with the plaintiff. The fraudulent misrepresentation must have caused the plaintiff to suffer damages. Both compensatory and punitive damages may be awarded if the plaintiff wins the case.
You may also be interested in…