JUUL Lawyer
JUUL Vaping Lawsuit
JUUL Vape Lawyer In Texas
An experienced JUUL lawyer can help you gather evidence that proves that the JUUL e-cigarette manufacturer caused your injury. E-cigarette makers often engage in false labeling, advertising, marketing, and sales which put many people at risk.  Your JUUL lawyer can demonstrate in court that JUUL was targeting your demographic in their advertising if you are a minor.
You deserve justice if you were injured because of the JUUL e-cigarette.
JUUL E-Cigarettes
JUUL Attorneys In TX
JUUL e-cigarettes are USB-shaped smoking devices that are powered by batteries. It vaporizes a special flavored liquid and users inhale the vapor. The device is supposed to deliver a more powerful effect than normal cigarettes can.
This device is popular with teens and young adult smokers. JUUL Labs, the JUUL manufacturer, claims that it is a safer alternative to smoking tobacco cigarettes, but there have been studies linking the device to seizures, extreme addiction, and other serious side effects.
What Are Side Effects Of JUUL?
E Cig Lawsuit
While false advertising to adults and minors can cause injuries, you also have to worry about the side effects of the JUUL e-cigarette.  These side effects are:
Dry eyes
Sore throat
Headaches
Coughing
Sneezing
Headaches
You should think about filing a lawsuit if you experience the following when using JUUL:
Nicotine poisoning
Seizures
Nicotine addiction
Strokes
Lung injuries or other conditions affecting your respiratory system
Heart issues such as heart attack
Note that some of these side effects can have long-term effects. You need to talk to an experienced JUUL lawyer to help you pursue JUUL labs for compensation.
Minors Using JUUL
JUUL Vape Lawsuit In Texas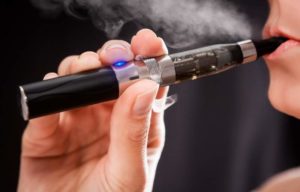 According to the U.S. Surgeon General e-cigarette users are exposed to harmful cancer-causing chemicals such as nicotine, carbonyl compounds, and volatile organic compounds.  Despite this, JUUL is allegedly marketing its products to attract minors without warning that the nicotine in their products is more potent and addictive than tobacco cigarettes.
Health problems that emerge from using these e-cigarettes can lead to more injuries in the future.
Easy Concealment
JUUL Lawsuit Settlement
Since these e-cigarettes look like USB sticks, it is easier for minors to conceal them and use them without their parents' knowledge.  That means that parents are only likely to discover that their minor child smokes e-cigarettes when the minor is already addicted or is experiencing the side effects of cigarettes.
Due to the flavors used in these cigarettes, it's harder for a parent to detect when their child is smoking.
Vaping Lung Diseases
TX Vaping Lawsuits
A minor or adult that regularly vapes may develop a condition called vaping lung disease.  They may develop a disease called popcorn lung, which damages the lung's tiny airways. Some signs of this disease include chest pain, shortness of breath, wheezing, or coughing.  Other lung diseases caused by vaping include lipoid pneumonia and collapsed lung.
Why You Need A JUUL Lawyer
Vapor Cigarette Accident
You or someone you love may have been misled by deceptive advertising claiming that JUUL was a safer alternative to smoking or that it is better than smoking but developed health issues anyway. Many people have been left fighting addiction and severe health issues that are associated with JUUL because of this marketing misdirection.
Fortunately, an experienced JUUL lawyer can help you take on the corporate giant that makes these e-cigarettes for financial recovery.
Find JUUL Lawyers Near Me